2016 Winning Taichung Golden Hand Award
2016/11/20
Chengmao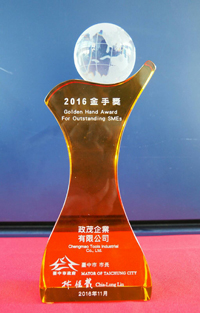 The 15th Taichung Golden Hand Award For Outstanding SMEs.

The 15th Golden Hand Awards Selection Event was jointly organized by the Taichung City Industrial and Commercial Development Investment Strategy Association and the Gold Hand Award Winners Association. The award ceremony was held in Taichung City Manufacturing Administration Building on 2016/11/20. Winners.

The award-winning manufacturers were awarded by 20 Taichung City outstanding local small and medium-sized enterprises. The Taichung Mayor Lin Jialong gave a prize to affirm its contribution to the economy of Taichung. The mayor said that Taitai is the most important base for Taiwan's manufacturing industry. The winners are their respective industries. In the competitive index, we look forward to driving other manufacturers in the future and exerting corporate social responsibility to let the world see the excellent quality of Taiwan manufacturing.

Mayor Lin said that in Taiwan's promotion of the "5+2" innovation industry, Taichung City has already supported the wisdom of the Executive Yuan's smart machinery industry, and in the future will promote the manufacturing industry to focus on smart manufacturing and promote industrial upgrading; Talent cultivation, land acquisition, exhibition halls, transfer of funds, international cooperation and marketing, etc., Taichung City will play a platform to help overcome, because "manufacturing is Taiwan's treasure!".
For more information about the Taichung City Golden Hawardplease visit the following websites:

http://www.goldenhandaward.com.tw/
Gallerys