2018 Achieves ISO Certification for Quality Management
2018/4/10
Chengmao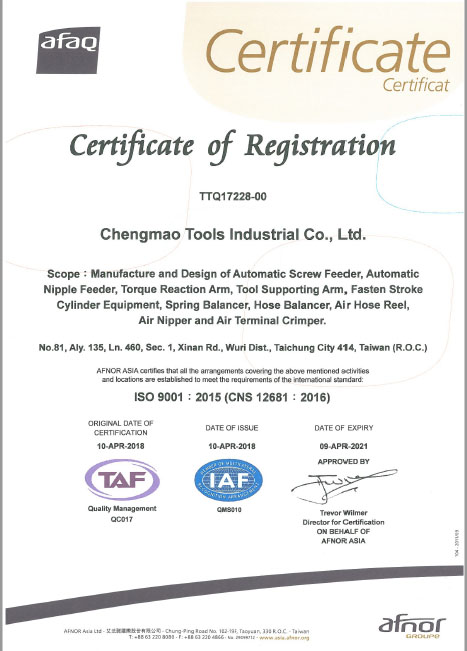 TAICHUNG, TAIWAN - Chengmao Tools (SEALS brand) , a manufacturer of spring balancer, hose balancer, automatic screw feeder, bicycle wheel lacing machine, air nipper, air terminal crimper, achieved ISO 9001:2015 certification for its quality management systems. This accomplishment demonstrates that the company uses effective quality management practices to enhance customer satisfaction and consistently deliver quality products.

Chengmao Tools received certification by documenting its quality objectives, procedures and work processes; ensuring this documented system is consistently implemented; performing regular internal audits; and proactively identifying opportunities for continuous improvement. The company's certified quality management processes spring balancer, air nipper, automatic screw feeding machine, wheel lacing machine, torque reaction arm and bicycle brake cable cap air plier design, manufacturing, inspections and customer service.

To learn more about ISO 9001:2015 certification, please visit http://www.iso.org.