---
Vibration Bowl Type Automatic Screw Feeder for Two Screwdriver Sets
CM-502
SEALS CM-502 Vibration bowl type automatic screw feeder supply screws for two screwdriver sets independently. SEALS CM-502 allows two operators with different screw consumption speed. For each screwdriver set, it could speed up to 45 pcs screw per minute. This could much reduce the unit cost. SEALS CM-502 could design for screw size from M1.0 to M8 and screw length up to 30 mm. It is easy to maintenance due to its simple structure. Due to the tank, it could load more screw than sword type automatic screw feeder.
Nickname
Automatic Screw Feeding Machine with two independent screwdriver set

Features
3, Independent operation is available, provide flexibility for production line, to elevate the quality of screw fastening and significantly increase productivity.
Specification
Voltage: 220V, Single Phase
Air Pressure: 5.5kg / cm² (=0.54MPa)
L / W / H: 51 / 60 / 50 cm
Capacity: 60 pcs/min.
Torque: Refer to screwdriver capacity
Volume: 1500 c.c.
Driver Option : Sumake, Uryu, M&L (Air Screwdriver) or Sumake, Kilews Electric, Delvo (Electric Screwdriver)
Available Screw Chart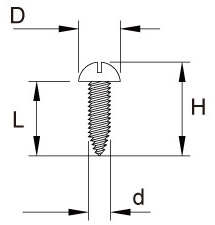 Listed below is the typical model of screw sizes that can be accepted for production. (Unit: mm)
(Note) Special specification screws not included in this table also can be used. For details, please contact a serviceperson of this Company.
Pan Head Round Head
Flat Head Oval Head
Binding Head
Truss Head
Max. L Dimension (L)
Screw Head Dia. (D)
Min. H Dimension (H)
Screw Head Dia. (D)
Min. H Dimension (H)
Screw Head Dia. (D)
Min. H Dimension (H)
Screw Head Dia. (D)
Min. H Dimension (H)
4.6
8
4.9
8
5.2
9
12
4.5
8
5.0
8
5.3
8
5.7
10
16
5.5
9
6.0
9
6.3
9
6.9
11
20
6.0
9
7.0
10
7.3
10
8.1
12
22
7.0
10
8.0
11
8.3
11
9.4
13
22
8.0
11
9.0
12
9.3
12
10.6
14
22
9.0
12
10.0
13
10.3
13
11.8
15
22
10.5
13
Screwdriver Optional
The selection of suitable screwdrivers is a great concern for the quality of the work. In this respect, we select Sumake, URYU Pneumatic Screwdriver and Sumake, Nitto Kohki Delvo Electric Screwdriver as driver options for your choice. Please contact us for the detailed specification of screwdriver.
(Note) The torque values listed in the specification table are provided by Japan's and Taiwan screwdriver manufacturer, which represents the values measured with the Torque Tester under the simplest conditions. During physical locking, the torque values measured will vary according to the utilization conditions.
Gallerys

Movies

Related Products

TR-650

---

Seals TR-650 Torque Reaction Arm has a 750mm work radius from the spindle base. With 365 degree rotation, TR-650 provides big work area. Meanwhile, its bendable arm design provide less conflict with other operator.TR-650A is for pneumatic tools only. And, TR-650AE is both for electric and pneumatic screwdriver.

---

TA-600

---

Seals Torque Reaction Arm designed to avoid for injuries caused by repetitive work and overusing the arm can occur in daily work activities. We provide the opportunity to implement ergonomic improvements to the manufacturing process. This torque reaction arm removes torque twisting and weight loading to create a safe work environment.

---

TM-6

---

SEALS Fasten Stroke Cylinder Equipment could integrate the screw driver set of the portable type automatic screw feeder into a auto drived by cylinder. The operator just put the work-piece into the fixture and activate the cylinder by foot padel. The fasten work could be done easily, quickly and quality stably.

---

---

Files Download

---

Full information of production line of automatic screw feeder from SEALS. This includes models for portable and automation application to enhance your screw assembly ability, efficiency, quality.

---

---